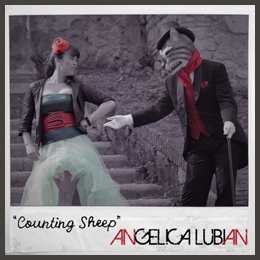 Release  13 April 2012
Production Angelica Lubian
COUNTING SHEEP: brand new single & music video for Angelica Lubian
[press release 13 April 2012]
Counting Sheep is the new single from Italian musician Angelica Lubian, accompanied by a funny music video signed by the young director Apollo (Andrea Pollano). Counting Sheep, which is the very first anglophone release for Angelica, has had its italian premiere a few days ago on national Radio1 Rai with an interview to Angelica. The single is now available on iTunes and you can watch the official video and the exclusive backstage video teaser over on YouTube.
Counting Sheep comes as an exciting sparkling new project for the italian singer-songwriter, that publishes her very first work completely written in a foreign language. A delicious pop song with a contagious melody and sharp, ironic lyrics. Even the release date doesn't sound to be casual and in a sense could sum up the message of the song. "Yes, Friday the 13th.
'cause we don't follow the flock … and the wolf is on our side".